By Alice
On a rainy Saturday afternoon, a committed crew of 2-8 Alice supporters (we lost and gained participants with each stop) took to the streets of Carbondale looking for the best Bloody Mary; a mythically tried and true "hair of the dog" hangover remedy.
We visited 5 establishments, and elected a winner based on 3 criteria (with a few sub-criteria): appearance (glass, garnish, size), taste (vodka, spice, base tomato mix), and overall (bartender, value, location, straw). The straw might be a weird sub-category, but how can you taste the whole drink without sipping from the top? Is the vodka on the bottom or on top, was the drink mixed well, or do we have to use the straw to mix? These are important taste-testing questions.
We used a scale from 1-5 (five highest), and were looking for someone to make the drink for us, not a "build your own." Isn't the point of going out for a Bloody Mary having someone mixing it for you? There were two clear winners, but one narrowly beat out the other because we are a simple bunch, so anything with a highfalutin edge was down-scored in the overall category. And, the winner is:
Carbondale Beer Works (CBW) Loaded Bloody by bartender Libby, $10.
This Bloody Mary had everything but the kitchen sink— in a good way. Not personally a fan of the overloaded Bloody, I like to be able to sip my drink without the help of a straw; others, however, think of the hangover Bloody as not only a cure, but also a prelude to brunch, or brunch itself. We heard tell of a Bloody in Denver that comes with a slider (yes, on a toothpick!) This one came with the traditional celery, lime, peperoncini, celery-salted rim, plus bacon, pickled okra, and dill pickle. What we liked about this Bloody was that first, it stood up using a well vodka, and secondly, the skewer on top of the pint glass had a square of cheese; points for uniqueness. Plus, the salted rim went all the way around, not just a dash for appearance, and the clear straw mixed in with the garnish, so wasn't actually a focus point of the artful display. The base mix is made from scratch by Libby; a subtle blend of tomato juice, spices and horseradish. No taste was overwhelming; they all just worked together. Plus, Libby suggested a 2 oz. "side car" of their local brew that is evidently customary in her home state of Wisconsin; nice touch. We gave it a score of five across the board.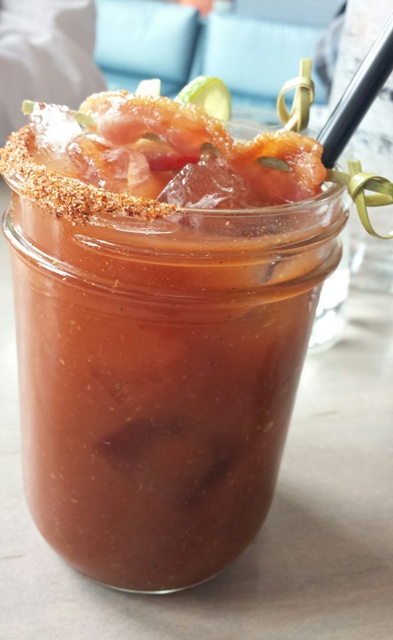 Marble Distilling Co, the Bonedale Bloody made with Love + Bacon by Justin, $12.
This Bloody was a close second with 14 points, but lost a point in the overall category due to its pretentiousness. Possibly not the drink's fault, but it arrived in a jam jar, so less booze for more money albeit the booze was excellent, a hot-peppered vodka made right there at the distillery. Cost to booze ratio aside, we common folk in Carbondale surely drink out of jam jars at home, so it makes us feel all cozy when we drink from one when out on the town. Actually, we at Alice do think the rustic glass thing is cool, (the Marble Bar is apparently all about it's groovy glassware second to its tasty vodka choices like the honey vodka- yum!) but the smallish jar doesn't lend to a variety of toppings, and the threads were a hindrance to sipping the drink. Sure, it came with a hip black straw, but still, just sayin'. The presentation, regardless, was very pretty with said bacon and other, basic accoutrement. The dash of rim salt was delicious, and the drink, despite its peppery vodka, was not overwhelmingly spicy. A darn good Bloody, all things considered, and mixed by a gregarious, amenable bartender.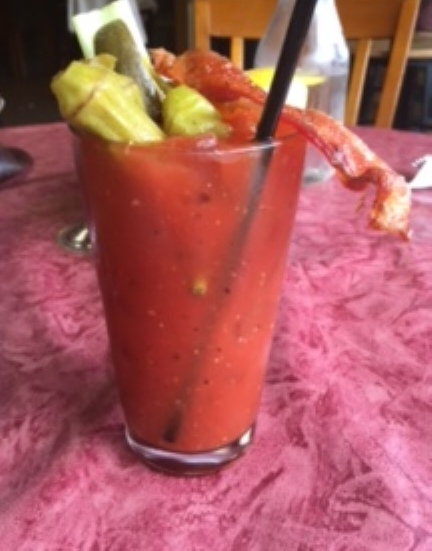 Village Smithy, Loaded Bloody Mary (filled with goodies) undetermined mixologist, $10.
Third place goes to the Village Smithy for a very accessible Bloody Mary, and yes, filled with goodies. With a score of 11 points (appearance: 5; taste: 3; overall: 3), this is a fine Bloody to sip at brunch. It looked very pretty in its pint glass with the usual lemon, pickle, bacon, pickled okra, peperoncini, and celery stalk – abundant and free floating. The homemade mix was tangy with distinctive pepper and horseradish flavor. Alice had one suggestion: shake the drink behind the scenes, so it doesn't arrive watered down from the ice in the glass. It was good to have the big straw for mixing, and no salted rim.
In fourth and fifth place respectively are: White House Pizza (10), and The Pour House (3). We really liked sassy Maggie, the bartender at WHP. She took care constructing our cocktail. It had a sultry color, too much Worcestershire (that made it sweet), and it was topped with 3 oz. of 1554 black ale. The garnish was standard, with Sriracha sauce added to the mix and celery salt on the rim. Sorry, Bert, we love you, but even upgrading the Bloody at the Pour House with Grey Goose vodka didn't make it drinkable. There was a way-too-heavy booze to mix ratio. The small cocktail straw was an appropriate choice for sipping, but the garnish was wilted and lonely (poor shriveled little thing of an olive.) Like Nick the mean Potterville bartender in the movie "It's a Wonderful Life" says, "We serve hard drinks in here for men who want to get drunk, fast." Alice recommends that if your eyeballs are bleeding from the night before, and you need a quick fix in order to pick up your mom from prison, all frou-frou silliness aside, the Pour House is the place to go for the hair of the dog that bit you.
Fun fact: according to the Urban Dictionary, the phrase "hair of the dog" comes from the expression "hair of the dog that bit you," meaning that the best cure for what ails you is to have some more of it. In ancient times it was literally used if a dog did bite you. The remedy was to put that dog's hair into the wound and it would heal. "Like cures like."
The traditional Bloody Mary hangover remedy, however, is not necessarily recommended by Alice because A) it leads to a slippery slope of drinking during the daytime, and B) it only prolongs the inevitable. We think it's best to stay in, drink lots of water, binge Netflix and cheesy poofs, and detox for the next outing.