With Rachel Irons
We gave Rachel Irons, a fantastically creative and clever cook, a list of ingredients and asked her to prepare a meal from them. What she devised is below, and it is simply delicious, ingenious and an exceptional use of what she had handy.  First, an introduction from Rachel about her cooking style:
Just a little explanation about how I cook. I'm really not big on measuring, I think it's much better to just add ingredients, taste the mixture, and then add more if needed. I also like to think of recipes more as guidelines, or inspiration, than hard and fast rules. So feel free to substitute ingredients and change amounts as you see fit.
List of ingredients:
Eggs, kale, spinach, chard, apple cider vinegar, fingerling potatoes, coconut cream, coconut flour, raspberries, Milk Stout, olive oil, garlic, leeks, dark chocolate, walnuts, oranges, goat cheese, salt and pepper.
Potato Veggie Pancakes
10 small purple potatoes
1 bunch chard
1 leek
olive oil
half a head of garlic
6 eggs
1T coconut flour
salt
Milk Stout
Boil potatoes until soft, strain and mash in a large bowl. Meanwhile, chop chard and leek (I use the whole entire leek) into smallish pieces; season with salt, and sauté in olive oil until soft (or maybe you like them crunchy, that's fine too).  A couple of minutes before your veggies are done add about a half cup of the Milk Stout. Now, I had never done this before, and I don't even like beer, I would go so far as to say I hate beer, but this gave my veggies a sweet and creamy flavor that really complemented them. Stir veggies into potatoes with raw eggs, coconut flour, and minced garlic. At this point your mixture will probably be a little soggy, let it sit for a couple minutes and the flour should absorb the extra moisture, if it's still soggy, add another tablespoon of flour. Heat a pan with some olive oil, take a handful of potato mixture, form it into a patty, and fry until golden brown on both sides.
Spinach Walnut Pesto
1/4 cup walnuts
1 pound spinach
1/2 cup apple cider vinegar
1/2 cup olive oil + more for toasting walnuts
Juice from half an orange
Several cloves garlic
Salt
Pepper
Lightly toast walnuts in olive oil. Place all ingredients in a food processor, with the toasted walnuts, and blend until smooth. If it tastes like it needs more acidity, add more vinegar, if it tastes like it needs more smoothness, add more oil; you can even add more orange juice if you're liking that flavor. If it doesn't need any of those, but you need more liquid to make it blend well, throw in some milk stout (I did) or some water if you're feeling less adventurous. What I like to do — if I'm sure that adding more of an ingredient will help the flavor — is just take out a spoonful, add the ingredient to that, and see how it tastes. Just a note – you're going to have to let this go for a while in the processor to get a nice smooth pesto.
Kale Chips
1 bunch curly kale
olive oil
salt
pepper
garlic
Rip up kale in a large bowl and toss with enough olive oil to lightly coat. Make sure your kale isn't dripping wet or it won't crisp up as well. Add salt and pepper to taste. You can throw in some cayenne too if you like a little pop… or any other seasoning that suits your fancy. Lie out on a pan, try not to go too much more than one layer thick, and bake at 350 until nice and crispy. You'll probably want to stir them halfway through, especially if you did more than one layer. About 10 minutes before they are done, you can sprinkle on some minced garlic. If you do this too early the garlic will burn, so I would add it right as the kale is starting to crisp. As for time, just check the chips every 10 minutes or so, more often towards the end, taste them and when you like the crunch, it's time to take them out.
Plating
Place a fried potato pancake on a plate and top with a generous helping of pesto, sprinkle on some kale chips and some goat cheese and you are ready to dine!
And for dessert:
Chocolate Mousse
7ish ounces semi-sweet or bittersweet chocolate chips of decent quality
2 ounces goat cheese
2 ounces coconut cream (the white fatty part that sits at the top of the can)
Pinch salt
4 egg yolks
vanilla
raspberries
Cook goat cheese and coconut milk until they are nice and melty. Whisk egg yolks and salt together. Slowly add cheese/cream mixture to egg yolks, continuing to whisk. Transfer this mixture back into the pot and heat; 160 degrees is ideal, but anywhere around there is fine — don't let it boil though. Melt chocolate in a double boiler, or in the microwave. Remove both from heat and stir the milky egg yolks into the chocolate, with the vanilla. Pour in a bowl and let chill for a few hours, then top with raspberries and more goat cheese, and enjoy. You can add some sugar if you want, but I think that the chocolate is sweet enough.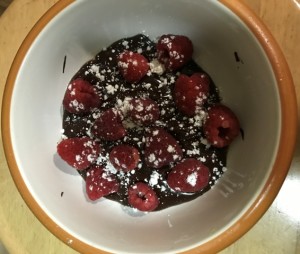 Rachel Irons grew up cooking with her parents and had a love of good food from an early age. She is currently starting a backpacking food business, she hopes to be a full-service backpacking food provider eventually, but is starting with meals bars – apricot cashew and nutty ginger date, as well as some savory flavors that are unlike anything else on the market – curry lentil, southwestern bean and rice, and spicy sweet potato. All are organic, gluten and soy free, with no preservatives or additives, and are packaged in biodegradable plastic. She hopes to provide a deliciously unique, healthier and more environmentally friendly snack option for hikers, bikers, and walkers and sitters alike.